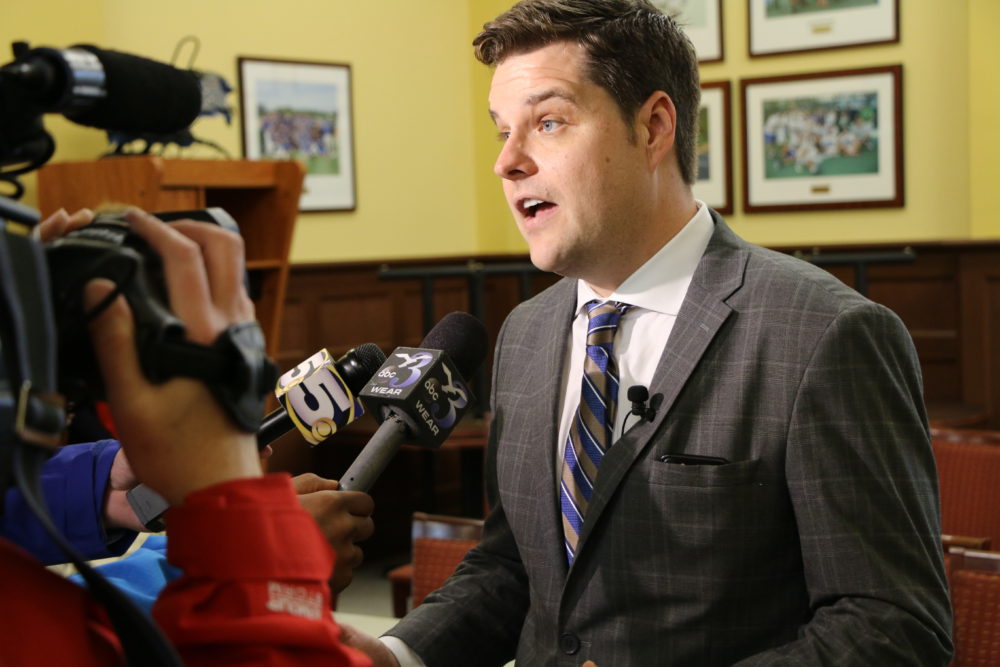 Congressman Matt Gaetz has become a household name for his intense loyalty to President Donald Trump. Whether that's good or bad depends on the household.
The Daily Beast has described Gaetz as Trump's "Super-Fan." This past weekend, he was supposed to speak at the 2019 Conservative Political Action Conference (CPAC) but got bumped because of Trump's two-hour speech.
As the New York Times reported earlier, more than 25 percent of the 19 resolutions and amendments Gaetz has introduced are directly related to scandals about or pushed by the president.
The Daily Beast also quoted Rep. Steve Stivers, who served as the chairman of the National Republican Congressional Committee during the 2016 election cycle: "Matt does provocative things at times, but Matt is a great, young, hard-working, smart member of Congress who's effective."
Cris Dosev, who has beaten by Gaetz in the last to GOP Congressional primaries was also quoted: "People here in Northwest Florida don't appreciate being conjoined to crazy stunts and embarrassing events."
Read FLORIDA MAN:  Is Trump Super-Fan Matt Gaetz the Future of the Grand Old Party?
---
Vanity Fair writes about how former Trump attorney Michael Cohen responded to Gaetz's apology. Before Cohen appeared before an open committee hearing, our congressman tweeted: "Do your wife & father-in-law know about your girlfriends? Maybe tonight would be a good time for that chat. I wonder if she'll remain faithful when you're in prison. She's about to learn a lot…"
He later deleted the tweet and apologized.
Vanity Fair has Cohen's response:
"Congressman Gaetz, I cannot thank you enough for your message. The tweet, sadly, has only made a bad situation worse . . . not only for my wife but for my children as well. With your permission, I would like to share your message with my wife and children. Hopefully, it will bring a little peace to their damaged life. We all make mistakes especially in this crazy partisan time. Thank you again for your text and I hope that the tweet does not cause you any harm. If it does, and there is anything I can do to help you correct it, please feel free to reach out and I would be happy to assist." 

Michael Cohen
Read Cohen Files: "I'M SORRY FOR THE TWEET THAT I SENT": INSIDE THE BONKERS MICHAEL COHEN-MATT GAETZ APOLOGY
---
The Raw Story pulled a quote from The Daily Beast article from an anonymous Democratic congressman, who said Gaetz is rapidly approaching Texas Sen. Ted Cruz (R) for tops in unlikeability in Congress.
"We rank him as one of the top two assholes in Congress. My brother said 'he has the most punchable face in Congress.'"

Anonymous Democratic Congressman, RawStory.com
Read GOP's Matt Gaetz ripped in interview as 'most punchable face in Congress' by Democrat: report