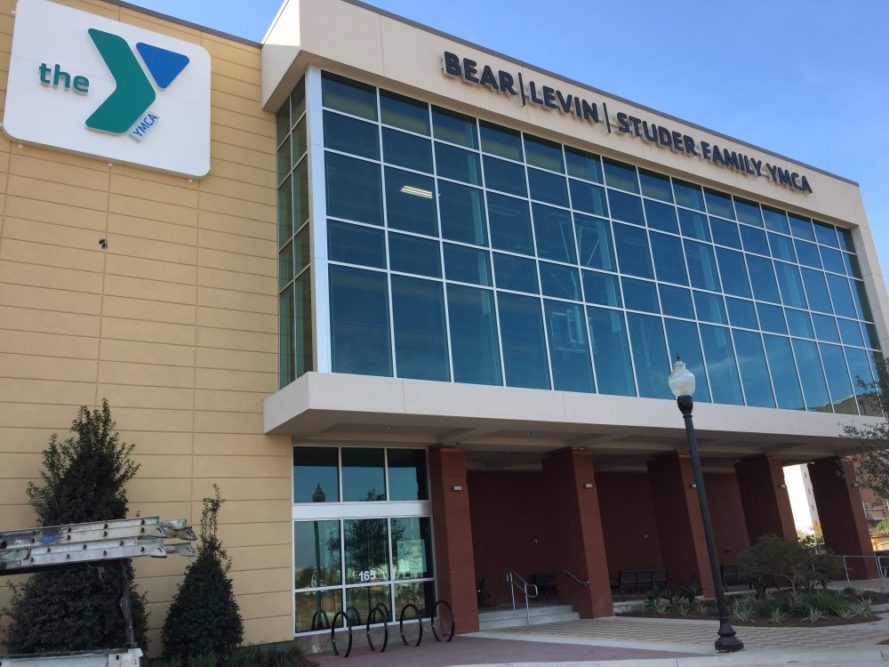 By Duwayne Escobedo
Less than five days until it opens at 5 a.m. Monday to its members for the first time, the Pensacola Y gave media a sneak peak of the new $16 million Bear Levin Studer Family YMCA.
Local media members spoke to staff, members and donors as they walked around the downtown facility that boasts an aquatic center with two pools and a two-story slide, a gymnasium, a wellness center, group exercise spaces, a KidZone, a demo kitchen, multi-purpose rooms and on-site physical therapy space run by Baptist Health Care/Andrews Institute.
The 52,000-square-foot facility at the corner of Intendencia and Tarragona streets is the fourth new YMCA that Bill Seedes has been involved with over his 25-year career.
"It's exciting to see this facility come from the ground up. It's unbelievable," the Bear Levin Studer executive director said. "This gives us an opportunity to serve our members and the community in a variety of different ways that the old Y is not able to do."
The YMCA opens the doors to its more than 5,100 members for the first time at 5 a.m. Monday. The old YMCA building on North Palafox next to the First Baptist Church is under contract to be sold. It opened in 1951 near the location of the original Y built in 1905.
Andrea Rosenbaum,YMCA Director of Advancement, reported that only $1.81 million is left to pay for the $16 million downtown YMCA. The community donated $14.19 million to build the facility, so far. The biggest donation came from community leaders Quint and Rishy Studer, who donated the 1-acre site and $5 million to the project.
"The support from so many donors has been overwhelming and speaks to the generosity of this community and the value they place on what a Y can do for the community," she said. "People tell me it's almost over but this is just the beginning. This Y will create a lot of energy and growth in the years to come."
John Switzer, who along with his brothers Charlie and Bobby donated to the new Y, looks forward to the opening of the pools named the Switzer Family Aquatic Center. It is slated to open by late November. The slide was scheduled today to have 300 gallons of water a minute to flow down it to test it.
"I will be here at 5 a.m. the first day it opens (to swim)," he said. "We're blessed to donate to it."
Studer is building housing across Intendencia street from the Y but there is a 60-space parking lot north of the site for members to park in.
YMCA CEO Michael Bodenhausen thanked all who donated time and funds to the project.
"Over a five year period, multiple volunteers and multiple donors have put their hearts and souls into this," he said. "It's not just one person. It just shows the care and love for the Y by people in this community. We will be helping the whole community live a better quality of life."