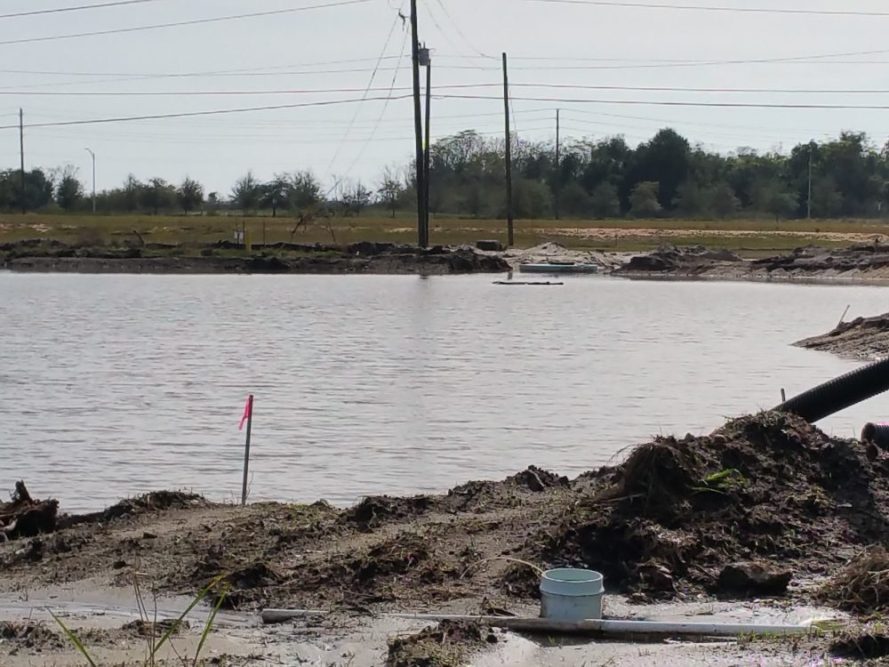 The Florida Department of Environmental Protection found a long list of deficiencies at the City of Pensacola Government Street Stormwater Project. Many of them were ones the City of Pensacola has known for weeks and refused to have its contractor remedy.
DEP conducted a National Pollutant Discharge Elimination System (NPDES) inspection of the construction on Thursday, Jan. 5.
The inspection came the day after Mayor Ashton Hayward discussed the project on News Radio 1620.
He told host Andrew McKay, "DEP permitted this project, so there's a lot of finger pointing, and not a lot of facts, Andrew, but most importantly, we're on top of there every single day."
The DEP inspection uncovered several violations that the Hayward Administration was not "on top of."
Elizabeth Orr, Assistant Director of the Northwest FDEP District office, sent the list to Emerald Coastkeeper Laurie Murphy yesterday.
The following deficiencies were noted:
Silt fence maintenance (silt fence in poor condition in several places around the perimeter of the site).
Silt fence not installed in some areas around the perimeter as required in the Stormwater Pollution Prevention Plan (SWPPP) and site plan.
Poor street sweeping (more needs to be done and at more intervals-SWPPP states daily street sweeping will be done).
No trackout pad installed (No trackout pad at laydown yard were heavy equipment egresses onto Government Street).

Contractor has reported that this has been installed.

Hydraulic fluid leak on ground from water pump needed to be cleaned up (Government Street).

Contractor has reported that this has been cleaned up.

SWPPP missing Dewatering Plan and BMP description.
Records for dewatering gallons per day per week were not kept.

Contractor agreed to start keeping records.

SWPPP not updated within seven days to match site conditions. (trackout pad and inlet protection device locations)
Diesel fuel tank drip pan for diesel fuel leaking outside tank walls from pump.

Contractor reported that pump was moved to better location and drip pan will be installed.
"A follow-up inspection will be conducted once the contractor has informed us that all deficiencies have been corrected," Orr wrote in her email.
---
In early December, Emerald Coastkeepers notified City Administrator Eric Olson of these issues in writing, including:
Lack of silt fencing on part of the job site.
Soil from the job site tracked out onto residential streets.
No fencing around this large storm pond in a residential neighborhood where children play.
Large areas of standing water and gravel from the job site located on residential neighborhood streets.
Large containers of Hydraulic Oil were scattered throughout the job site.
The track-out  so significant that automobiles and children playing on the residential streets create large dust clouds when traveling through it.
Many of these deficiencies were seen when Commissioner Lumon May, county officials, and media visited the site on Dec. 14. Olson and Mayor Ashton Hayward refused to join the tour.
Unfortunately the nothing was done on the site to correct the problems until after Laurie Murphy emailed the City again after Christmas.  Some changes were made, but not enough to pass a DEP inspection the following week.
Other articles:
How to destroy a Pensacola neighborhood or 'You oughta see all the rats'
Pensacola Councilwoman asks Administrator to help Tanyards
How close is Pensacola stormwater project to homes (photos)
Commissioner May listens to Pensacola Tanyard residents, Mayor Hayward skips tour
Pensacola mayor has not responded to Tanyard violations [podcast]
City of Pensacola misses Tanyard deadline
Pensacola Dysfunction Junction: Tanyard Day Six
And then the Pensacola Tanyards project got weird
Emerald Coastkeeper lists problems at Pensacola Tanyards project